Lonely at the top: finding accompaniment while leading social change
When the going gets tough, what keeps you going? Acumen UK's Denise Jobome explores the 'beautiful struggle' of social change and the importance of accompaniment while on the path of leadership with Acumen Fellows Duro Oye and John Harrison.
"Beneath the hard skills and firm strategic priorities needed to resolve our greatest challenges lies the soft, fertile ground of our shared humanity. In that place of hard and soft is sustenance." - Jaqueline Novogratz, Acumen founder
The early days of an idea are often full of exhilaration.
Think back to when you last started a new project or committed to learning a new skill. Were you full of excitement and purpose? For how long did the flame keep burning? 
A fresh beginning can quickly stir up a bubbling pot of motivation for all of us. However, as the months and years go by that excitement can quickly turn into dread when you hit yet another sinkhole in the road, and the motivation you once had in plenty slowly diminishes. Acumen advisor and author Sean Godin coined the term "the dip", describing the long slog between starting and mastery. "Successful people don't just ride out the dip, they lean into it. They push harder, changing the rules as they go."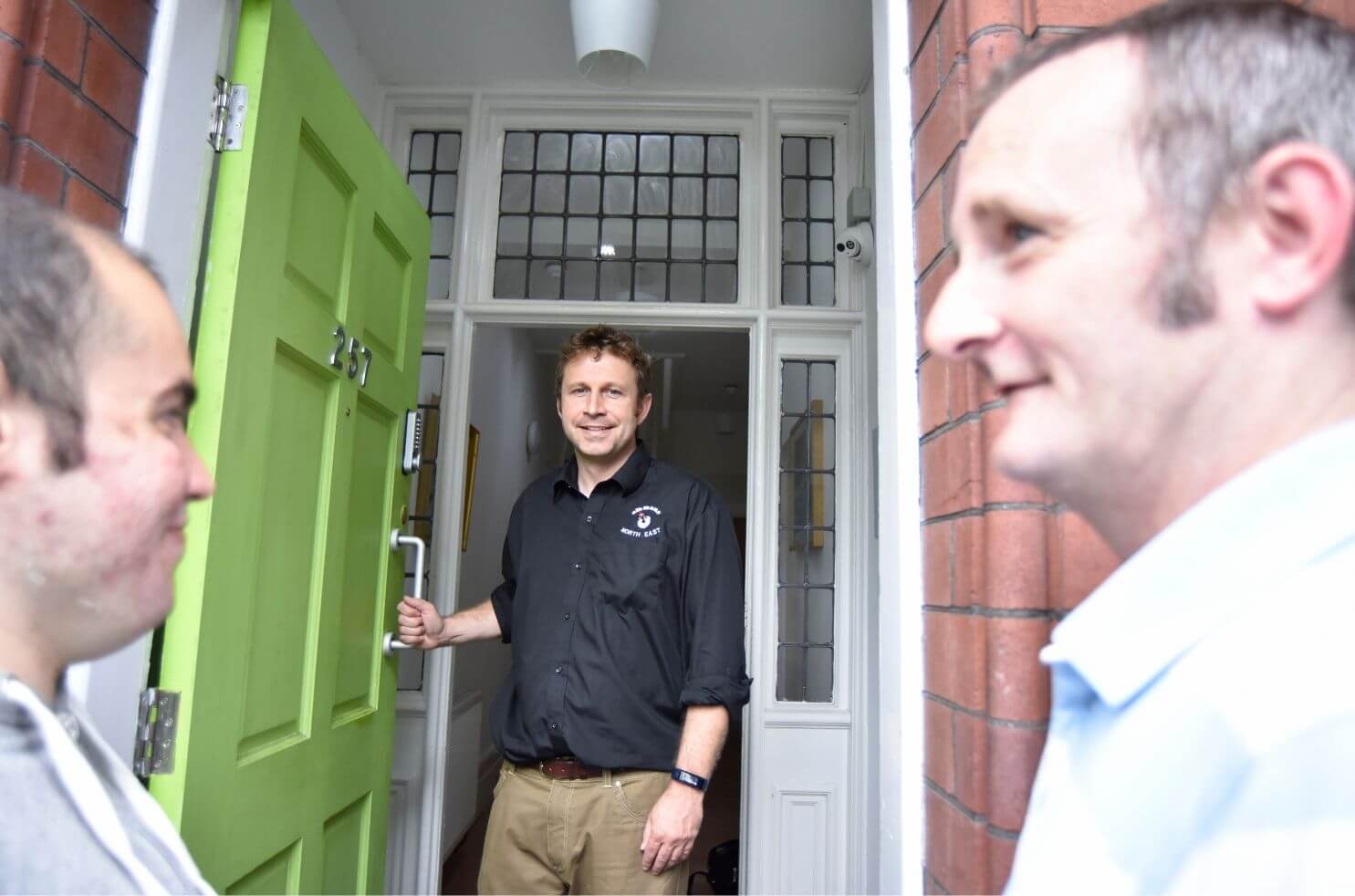 John Harrison (pictured), community manager at Emmaus North East, is on the frontline of working to end homelessness within South Shields in north-east England. After spending three years in Malawi tackling poverty and social exclusion among the Chimteka community, John joined Emmaus with the mission to dismantle the barriers to services that people faced. Reflecting on the beginning of a difficult journey, John says, "I don't regret it – but my life would have been very different if I hadn't seen what I had."
At times, the path of challenging the status quo can feel far too heavy a burden. At times you may even wish that the baton had passed you by. On the lifelong journey of creating an inclusive and sustainable world, there are countless dips for us to navigate; to double down and ride the wave can be a difficult and lonely decision for any leader to make. Who and what grounds you as you embrace and find meaning in this struggle?
Embracing the beautiful struggle 
I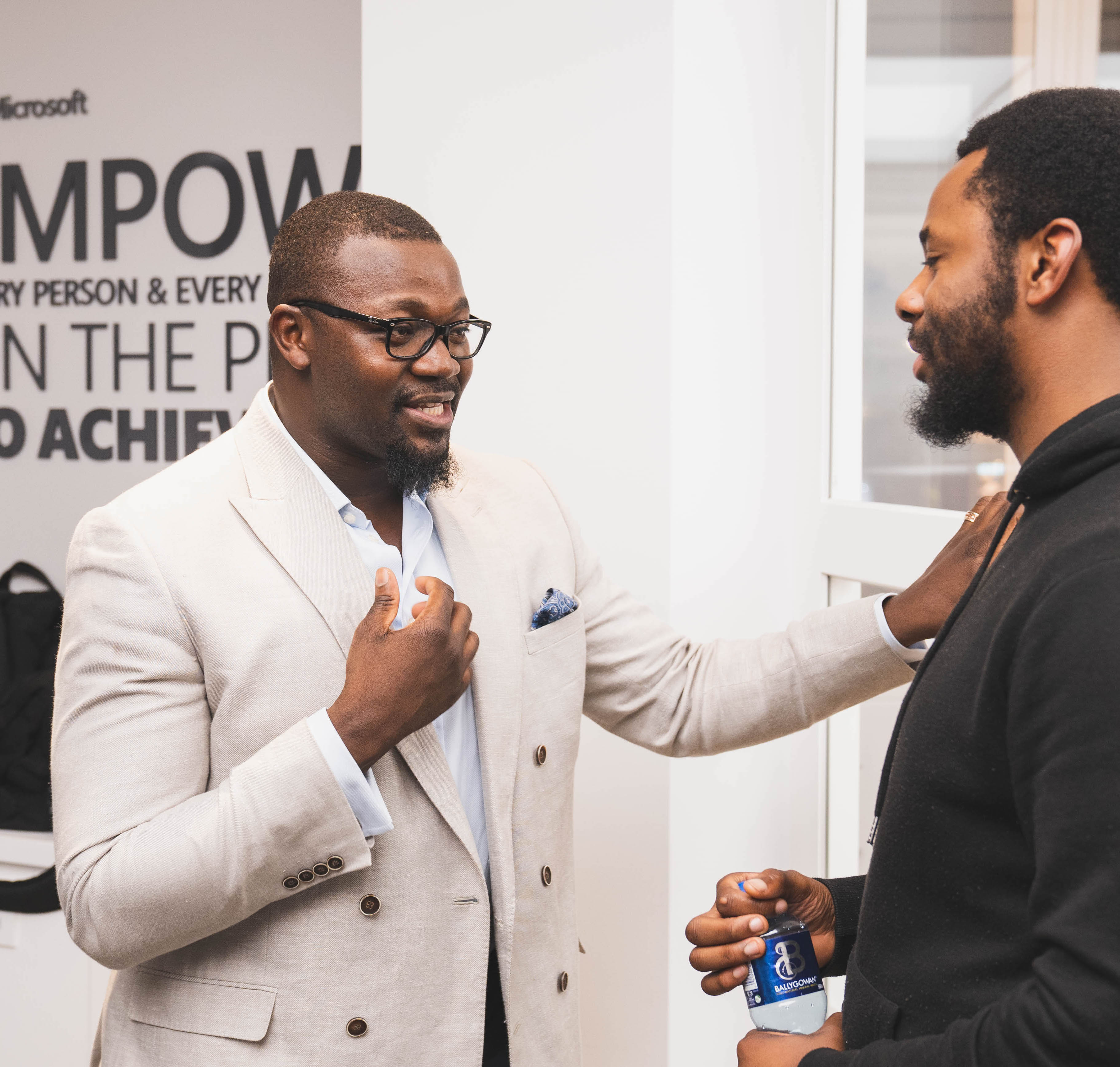 t's human nature to quit when it hurts – but knowing when and how to lean into the challenge is vital. Duro Oye (pictured), CEO of 2020 Change, which empowers young people across the UK to reach their full potential, recalls that when he started in 2013, many people didn't understand the model, or how it would eventually become profitable. "I had to be my number one supporter and cheerleader. In the first five years of operating, no monetary funds were coming in – I was having to live off my motivation, drive and passion." 
The leadership to push forward and embrace challenge can be a lonely business, and the paradox of loneliness within the social sector is a common experience. To champion systemic change involves stepping aside from the fold; it means seeing humility and hope where others are cynical. Being constantly exposed to the elements of change, even with a team around you – how can a leader avoid the impending feelings of isolation? 
John supports up to 15 formerly homeless people, known within Emmaus as companions. But for him, the phrase it can be lonely at the top rang true. "When you are in the chair as the most senior member you can feel like you are up against a lot," he says. But, describing himself as a man of faith, John was able to find "that inner strength to draw upon, reminding me that I am always loved, supported and never alone". His connection to community and purpose also sustains him. "What we do has an impact and provides greater meaning for so many. That is what keeps me going."
When you are in the chair as the most senior member you can feel like you are up against a lot
While the capabilities of leadership may lie within each of us, the grit to succeed requires "levelling up" through mentorship, fellowship and companionship, Duro says. For him, deep companionship from his loved ones fuelled him during challenging times. "My family were and are a huge support system for me," he says. "My wife understood the vision, was there throughout the early stages and all the sacrifice." When transitioning into the role of full-time CEO, a supportive board, involvement with the Acumen Fellowship and similar programmes helped to combat feelings of isolation: "They helped me build a network of social enterprise leaders to share experiences and build practices with". Ultimately, Duro's deep-rooted connection with young people, stemming from his hands-on nature from the very beginning, was the "driving factor" that kept him focused on the path ahead. 
The Acumen Fellowship
Each year the UK Fellows Programme brings together around 20 bold and generous leaders committed to building an inclusive and sustainable UK, and equips them with the practices and community to sustain their impact.
Fellows come from all walks of life and are empowering our youth, standing with our vulnerable, protecting our environment and serving us all. Sign up to learn more.
When you're working to effect change and you begin to feel the weight of adversity, who fuels your growth and sustains your motivation? 
For John, Duro and others, hope and strength can be found in accompaniment, giving them the courage to ride the dip and embrace the beautiful struggle. 

The power of accompaniment 
"Accompaniment is the willingness to encounter another, to make someone feel valued and seen, bettered for knowing you, never belittled – a disciplined resolve to show up repeatedly with no expectation of thanks in return."- Jaqueline Novogratz 
Accompaniment is not only for an individual, business or organisation. It is a framework for a more inclusive, caring society. John and Duro remind us that accompaniment should exist in every stage of a person's life – in our families, schools, communities and workplaces. We are here to serve one another.
The Acumen Fellowship is grounded in accompaniment – the weaving together of relationships, common purpose, trust and the accountability to push and support one another. 
Covid-19 continues to have a ripple effect across every aspect of our lives. Duro and John joined the Fellowship in 2020. And despite the cohort of 22 being at different stages in their businesses and journey of social change, the pandemic provided what Duro calls a "common thread".
"That kept us all looped in with each other. We were all facing the same thing," he says. 
There is beauty in solidarity. We are all travelling on different roads, but there is a shared purpose between us all
"There is beauty in solidarity," says John. "We are all travelling on different roads, but there is a shared purpose between us all." With the support of the cohort, Fellows gain strength to take the leadership steps before them, a willingness to make hard decisions and the determination to keep walking the path – because they know that they do not walk alone. As part of the Acumen community, we are all here to serve one another and lead the rebuilding of an inclusive world. 
During this time of uncertainty and division, who is strengthening, supporting and accompanying you as you take your impact to the next level?
Are you looking to join a community role modelling a new kind of leadership? Acumen is on the quest to find, connect and select their 2021 UK cohort of Fellows. Learn more and apply by the 5th of May.
This article was produced in partnership with Acumen.
Header image: Acumen Fellows Kajal Odedra, Tom Harbour and Last Mafuba participating in the first UK Acumen Academy immersive residential (credit: Acumen UK)