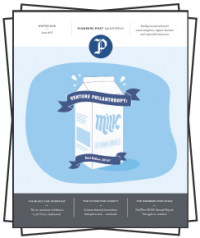 Cover feature: do you know the difference between venture philanthropy and impact investing?
Global Focus on the state of social enterprise in east Africa.
The Black Cab Interviews: Lord Victor Adebowale talks street sweeping, democracy and fairness.
The Pioneer Post Essay: the SE100 Annual Report tells us how UK social ventures are doing.
Pioneers Post Business School - Find out where social investment money is going, why some social investment fails and the future for charity.
PLUS: We find out how European innovation will help refugees, see what a £250m social business looks like and finally, get to go down the pub.