Lockdown is your 'Kitchen Nightmare' opportunity
Could you start seeing Covid-19 restrictions as the burst water pipe that's forced you to shut up shop for a while – a chance to finally overhaul all those niggling issues? Occupational therapist and reality TV fan Katherine Burnard on why the current period could just be the Gordon Ramsay moment you (and your social enterprise) need.
Kitchen Nightmare (Lockdown Edition): Chef Gordon Ramsay is invited by the owners to spend lockdown in their struggling restaurant in an attempt to revive the business and #BuildBackBetter.
For a brief time in my life I binged on a TV show called Kitchen Nightmares. For those who have never been similarly tempted, the series follows chef Gordon Ramsay as he pays an unexpected visit to restaurant owners who've got themselves into varying degrees of grim situations including rat infestations, dodgy food hygiene, and front of house staff rivalries. He spends a week with them to get to the bottom of what's causing the issues and helps them to revive their failing business.
Are you wondering yet why you're reading a synopsis of a restaurant makeover reality TV show?
Well, Lockdown is your Kitchen Nightmare moment. Gordon Ramsay has come knocking, here to help you take an honest look at where your restaurant life had been struggling pre-Covid, getting clarity of the vision you have for it reaching its full potential, then getting you ready for the big reopening.
There's no way you'd consider shutting up shop for a few weeks or months to give it a revamp
Alright, so maybe your restaurant life wasn't totally failing pre-lockdown, but somewhere along the line things have gone off track. The restaurant is always busy, but the owner (that's you) will always squeeze people in somewhere. The menu feels a bit confused, a mishmash of cuisines, but whoever eats there – kids, friends, in-laws – everyone will leave feeling reasonably satisfied. The dining experience occasionally 'wows' but generally it accurately reflects the 3.5 star TripAdvisor rating. The interior is a bit tired with some odd decorating clash going on. The opening hours have you nearing burnout. But business is good enough.
Sure, you've had a few niggling thoughts of how it could be better, how you could really show your true colours as a restaurateur. But there's no way you would consider shutting up shop for a few weeks or months to give it a revamp. You've got to keep the customers happy, and frankly you feel you haven't got the inspiration or resources to make any changes.
So let's imagine Covid-19 lockdown as the burst water pipe that forced you to shut up shop for a while. After the initial crisis management phase you're getting a bit more used to the change of pace. You notice you've freed up some capacity to start considering what parts of your original restaurant simply must stay, which could do with a tweak, what bits you can chuck out and whether there should be any new additions.
The tips and tools you will receive from me over the coming weeks are designed to help you #BuildBackBetter. Consider them to be your more gentle, (slightly) less sweary, and less egotistical Gordon Ramsay.
Kitchen Nightmare (Lockdown Edition): Episode 1: The Menu
In this week's episode Gordon Ramsay takes a look at how the owner's menu reflects all of the things they were doing to fill their time. One thing is clear, it's overloaded. Will they be able to use lockdown to reflect on what they actually enjoy cooking and what they can scrap?
In your life restaurant you've got one of those menus that folds out to the size of a broadsheet. It's got quite literally hundreds of options squished under headings. You want to appeal to everyone and so you just kept adding to it since you opened but you've never taken anything off the menu. Some things on there you just begrudge having to cook after all this time. Some you make such little profit margin on there's almost no point. Some culinary delights seem to never get ordered because they're hidden amongst all the options. Sometimes you've got a few weekly specials on top, sometimes you try to be a bit seasonal with it – but to be honest, the whole thing is a bit confused. Do you really need three variations of steak & mushroom pie, a vegan and vegetarian version of lamb shawarma, and to offer 45 flavours of gelato? Gordon's going to tell you that you don't.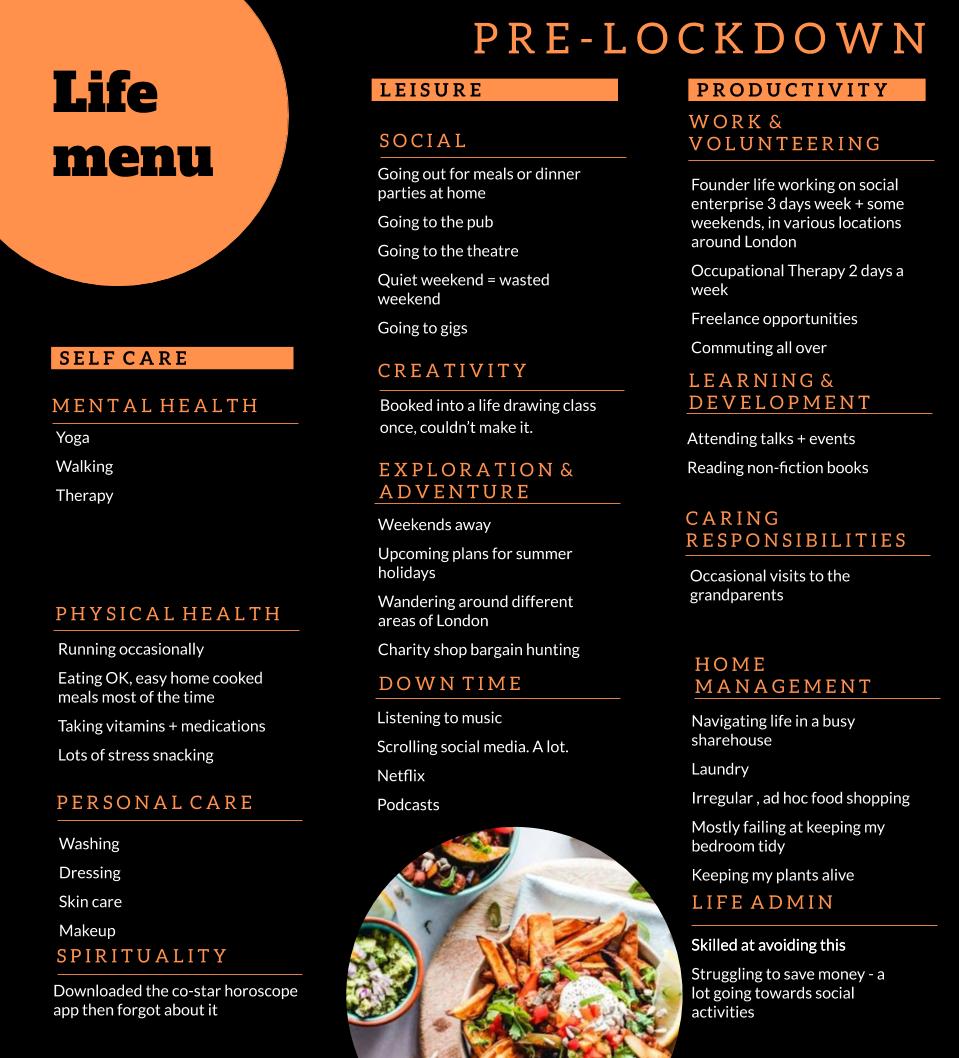 The forced closure of your restaurant has meant you're able to look more objectively at all the options you had on that enormous menu. You can start to consider which things you really want to keep on there, and which you don't. It's also giving you time to start experimenting with some new dishes. Maybe you've been inspired to get creative, to dust off some ancient recipe books containing some old favourites, or to copy a few of the recipes you've seen other restaurant owners posting on social media.
Do you really need to offer 45 flavours of gelato? Gordon's going to tell you that you don't
So Gordon Ramsay's first bit of advice on Kitchen Nightmare (Lockdown Edition): Compare your pre-lockdown life menu with your current life menu. Swap out starters, mains and desserts for the three key activity domains of leisure, productivity and self-care.
What menu items are you missing from your pre-lockdown life?
What menu items are you feeling relieved that you don't need to cook right now?
What are you loving whipping up at the moment?
What new items on your lockdown menu might you want to carry forward into the re-opening?
Are you noticing any areas where you could simplify the menu upon re-opening?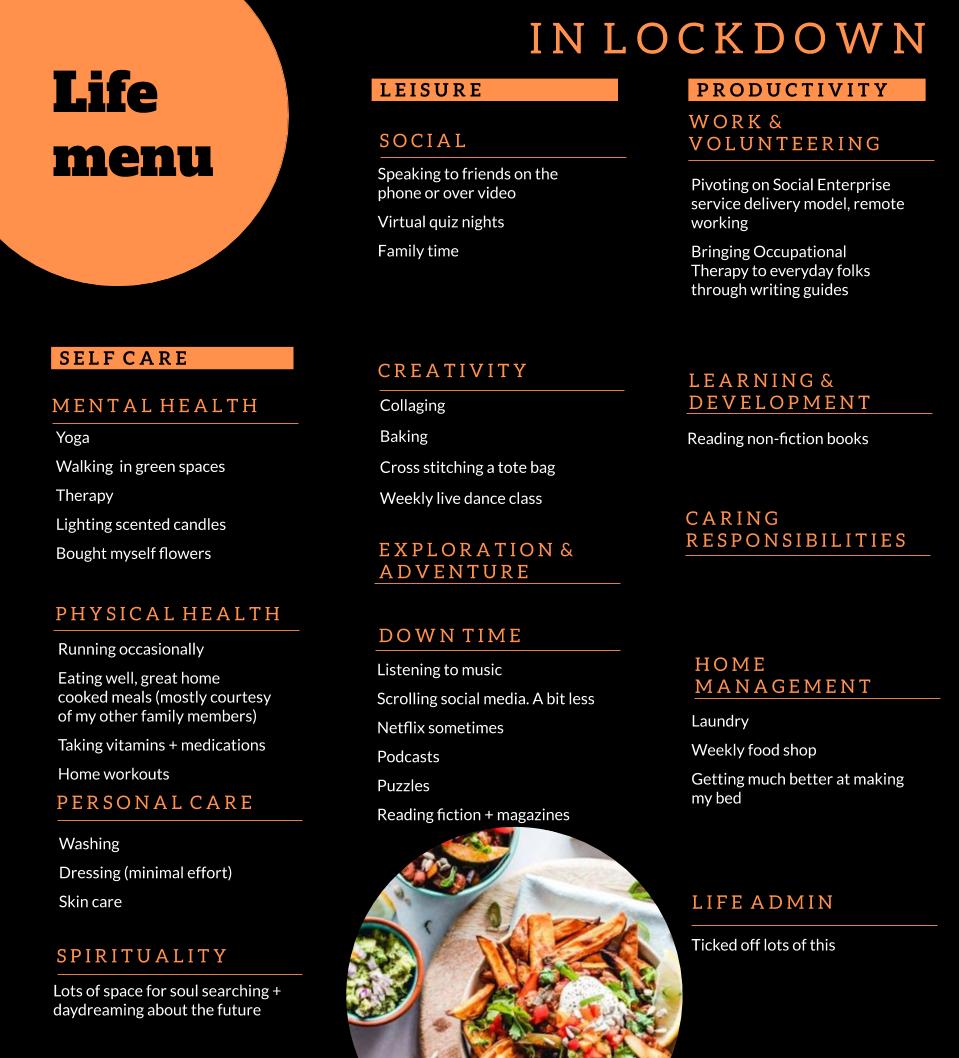 My own restaurant is obviously shut too and I did this activity for myself. It's not about redesigning the whole thing now but just about building some awareness. The most significant thing I want to take forward into the reopening is being more purposeful in how I use my alone time, of not feeling the need to fill my free time with social activities but not being avoidant of just picking up the phone to chat to someone, and to continue with my re-ignited geeky love for collage.
At Pioneers Post we're working hard to provide the most up-to-date news and resources to help social businesses and impact investors share their experiences and get through the Covid-19 crisis. But we need your support to continue. As a social enterprise ourselves, Pioneers Post relies on paid subscriptions and partnerships to sustain our purpose-led journalism – so if you think it's worth having an independent, mission-driven, specialist media platform for the impact movement, please click here to subscribe.