How to build an impact city: Unlock markets
What role can a city play in transforming the economy? Amsterdam Impact, a local government initiative that has been helping to reshape the business landscape in the Dutch city since 2015, shares six ways it's ensuring impact enterprises can flourish, while placing Amsterdam firmly on the impact map. First up: why markets matter, and some practical steps to connect businesses with potential buyers.
Amsterdam Impact, the City of Amsterdam's impact entrepreneurship initiative, believes that every euro spent on the products and services of social enterprises is a significant contribution to a more inclusive and sustainable economy. From supporting social procurement to launching consumer-oriented campaigns, improving the market access of impact enterprises is one of the six pillars of Amsterdam Impact's 2019-2022 programme. 
Connecting social enterprises to buyers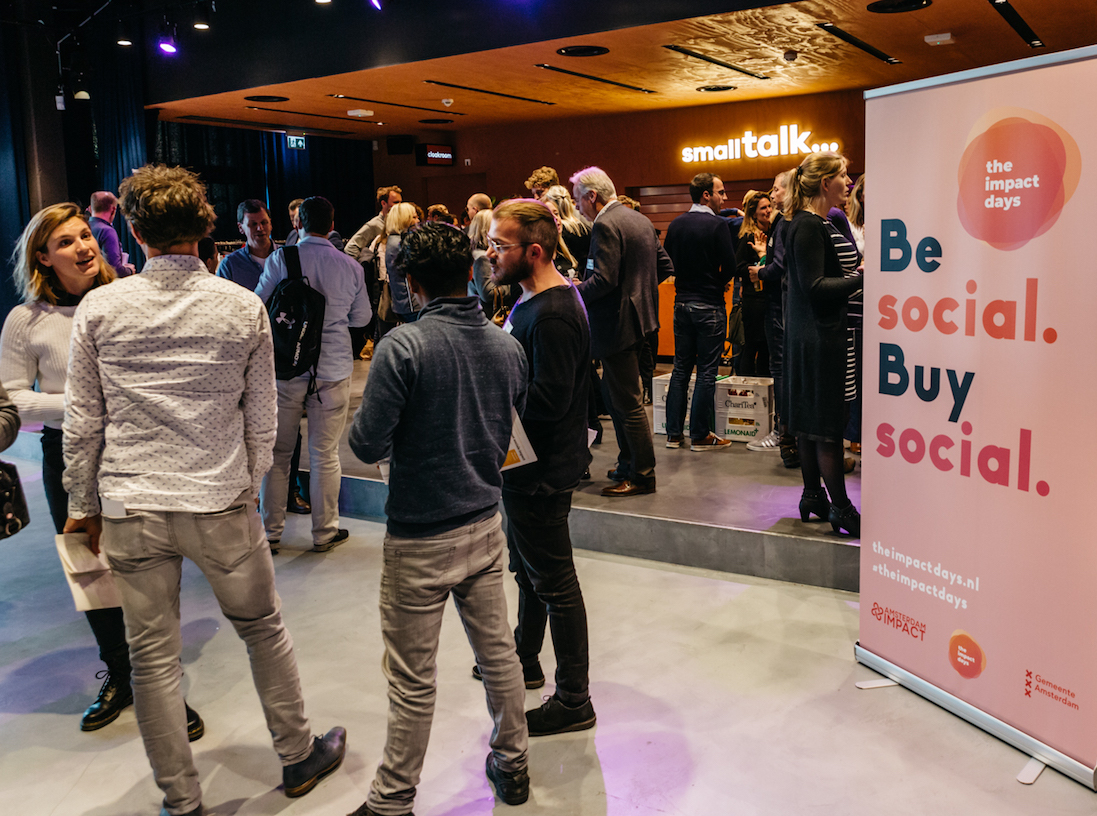 Back in 2015, the Dutch national government adopted a five-year plan for strengthening socially responsible procurement. The plan outlined steps that all government authorities should take to consider the triple bottom line – people, planet, and profit – when purchasing products and services. 
With a combined purchasing power of more than €41bn per year, the procurement habits of Dutch local governments can play a huge role in advancing a new economy that embraces multiple forms of value: societal and financial. 
But, in addition to embracing socially responsible procurement, large municipalities such as Amsterdam can also facilitate deal-making for enterprises that provide inclusive and sustainable products and services. 
The idea of the municipality becoming an ambassador for social enterprises is what motivated Amsterdam Impact to team up with national membership body Social Enterprise NL on a series of events that would spark such deal-making. 
We were inspired by similar initiatives in the UK, Canada and Australia and decided to co-create matching events and a consumer-oriented campaign
"We were inspired by similar initiatives in the UK, Canada and Australia and decided to co-create matching events, as well as a consumer-oriented campaign, adapted to the Dutch context. Both really helped us understand the role a municipality can play in this respect," says Ellen Oetelmans, Amsterdam Impact's programme manager.
"One of the top three priorities of our members was attracting more customers, specifically large organisations – public and private – with sustainability ambitions," says Stefan Panhuijsen, director of Social Enterprise NL.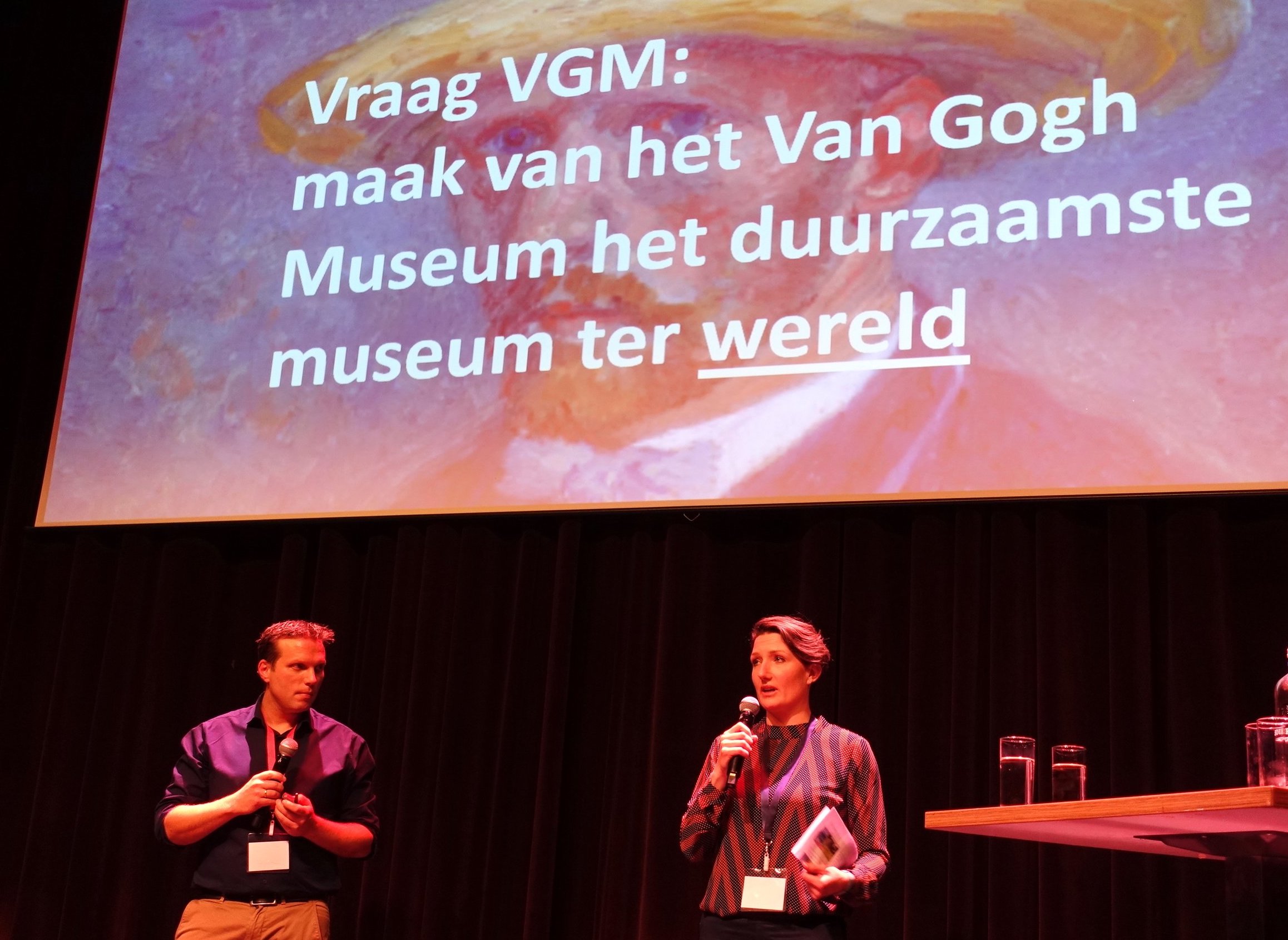 Above: Social enterprise Breedweer, which uses sustainable cleaning products and employs people who face barriers to employment, won a contract with Amsterdam's Van Gogh Museum in 2019. Representatives from the organisations spoke at a Buy Social event about their partnership
"The City of Amsterdam has been crucial to the development of the Buy Social network as it is today. Together, we co-developed the concept of an event where social enterprises pitch to an audience of buyers," adds Panhuijsen.
To help social enterprises gain access to such organisations, the municipality can draw from its extensive partner network. "For instance, we worked with amsterdam inbusiness – the official foreign investment agency of the Amsterdam Metropolitan Area – to invite international companies that want to do good and strengthen their ties to the region," says Egon van Wees, Amsterdam Impact's project lead on market access. 
Buy Social deal: An iconic Amsterdam museum teams up with an inclusive and sustainable cleaning company 
In its efforts to become the world's most sustainable museum, Van Gogh Museum, which receives 2.2 million visitors each year, enlisted Breedweer, a social enterprise that sees cleaning as a means to contribute to the Sustainable Development Goals. Breedweer uses sustainable cleaning products and employs people who face barriers to employment.
The contract with Breedweer came about in 2019, when the museum used the 'Best Value Procurement' approach – the first time it had done so – and made social impact a mandatory requirement for potential suppliers. 
"In such a tender the price is fixed and you compete on quality," Breedweer owner Jack Stuifbergen explains. "We were also asked to make suggestions on how the organisation's impact can go beyond cleaning. For instance, we shared our aim to start open hiring, without [requiring candidates to do a job] interview, in 2021." 
Finding the right partner to help meet Van Gogh Museum's impact goals was a long-term process that involved internal inspiration sessions to get the management team onboard. 
"Once you have created a sense of urgency, you move towards platforms like Buy Social, where you can find sustainable entrepreneurs, peer support, and success stories. That helps enormously," says Roelof van der Koei, head of facility management at Van Gogh Museum. 
Interested in the Buy Social network and matching events? Contact Nienke Schütte. 
More than procurement
The series of 'pitch-and-match' events run by Amsterdam Impact, Social Enterprise NL and other partners from the Buy Social network have so far led to more than 50 deals between social enterprises and buyers from other companies and organisations. 
Some of these deals have been instrumental in tackling the misconception that social enterprises struggle to deliver quality products and services.  
This deal proves that a social enterprise can deliver quality services to a large organisation in a complex area such as IT
"Take the collaboration of Swink, a digital agency that employs people with autism, and PwC. This deal proves that a social enterprise can deliver quality services to a large organisation in a complex area such as IT," says Panhuijsen. 
Watch a 3-minute video to find out more about the collaboration between Swink & PwC Nederland
Buy Social deals not only change perspectives of potential buyers. Once a company's employees are using social enterprise products and services on a daily basis, they swiftly become supporters.
In 2018, ABN AMRO, one of the largest Dutch banks, became the launching customer of Sign Language Coffee Bar, where deaf baristas prepare beverages ordered through simple gestures. 
"This very visible hospitality service has helped ABN AMRO put the topic of hiring people with a disability on the agenda and create employee engagement around inclusion," Panhuijsen explains. 
Many of the social enterprises taking part in Buy Social events operate in hospitality, which opens up a challenging but exciting avenue for growth: connecting social enterprises to professional service providers, such as large catering companies. "By helping social enterprises become part of bigger procurement contracts, we can create new supply chains," Van Wees concludes. 
Adapting to a new normal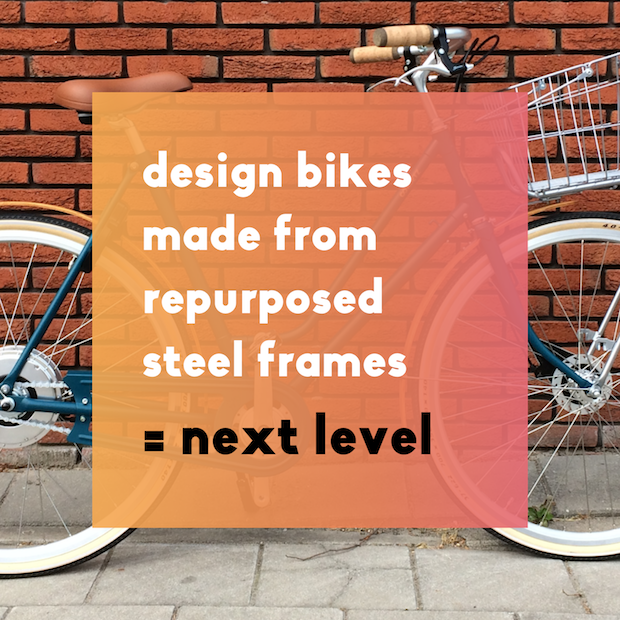 The Covid-19 pandemic brought new challenges to Amsterdam Impact's market access work.
With in-person gatherings virtually impossible, the two Buy Social events scheduled for 2020 took place in a blended format: live pitches from an inspiring location for an online audience. Meanwhile, the Buy Social edition during The Impact Days 2020, a national social enterprise awareness campaign, featured professionally filmed intros in lieu of pitches.
"By using video we help the entrepreneurs tell a more engaging story through a reusable asset that we can also use to promote Buy Social events and strengthen the responsible purchasing movement," says Van Wees. 
And although networking is more difficult online than in a physical space, the benefits of going digital can outweigh the setbacks. "You do get to showcase more social enterprises and introduce them to more potential buyers," Panhuijsen says.
Taking conscious shopping to the next level 
Since its launch, Amsterdam Impact has also been fostering opportunities to get social enterprises on the radar of individual customers.  
"Although Amsterdam's historical centre is home to many exciting social enterprises, we wanted to encourage residents and visitors to explore the entire city. So we designed seven conscious shopping routes – one for each city district," says Oetelmans.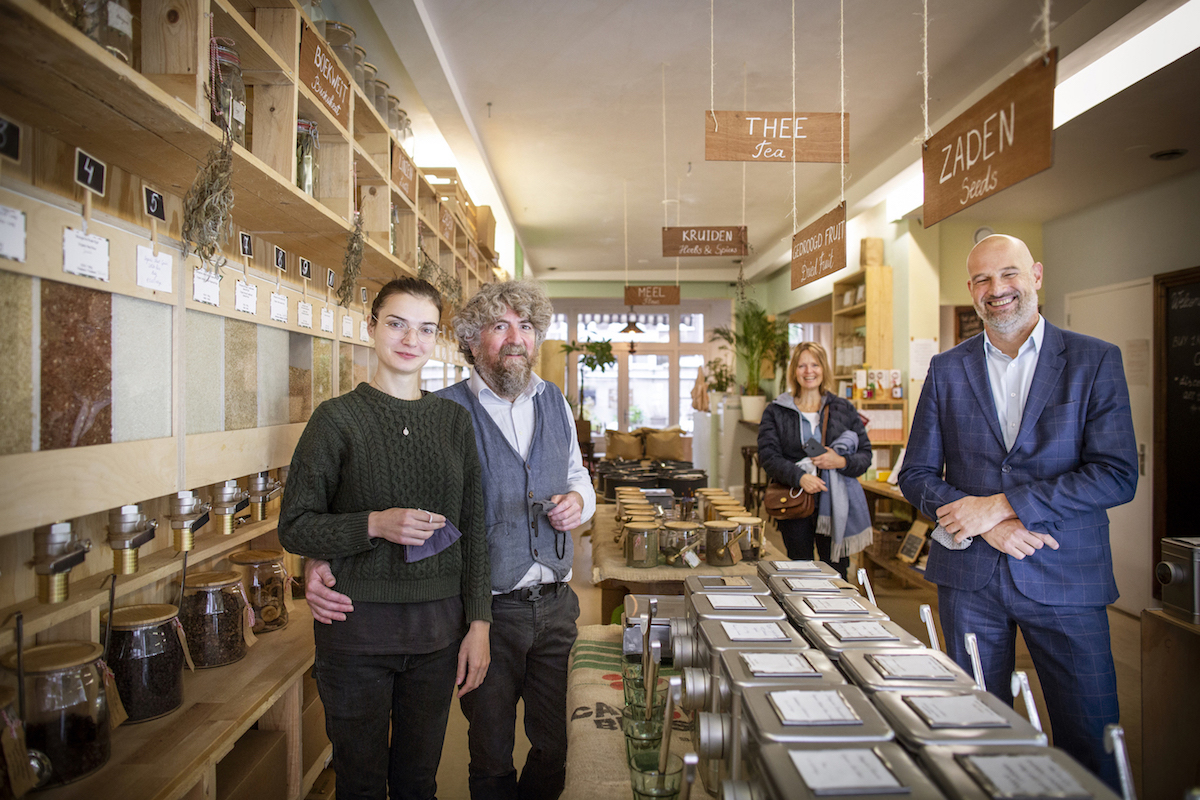 Above: Victor Everhardt, Amsterdam's Deputy Mayor for Economic Affairs (pictured right), visits zero-waste grocery shop Little Plant Pantry during The Impact Days 2020 (credit: Janus van den Eijnden)
Amsterdam Impact's Van Wees adds: "We had also partnered with the I amsterdam store – a one-stop shop for both visitors and residents – to create more shelf space for social enterprises. And we thought, 'Couldn't we do more?'" 
In 2018, it all clicked. "We researched what was going on in other countries, like the Social Saturday campaign in the UK, and pitched the idea of a national campaign to the municipalities of Rotterdam, Utrecht, and The Hague, which were very enthusiastic." 
Thus The Impact Days was born: an annual three-day campaign to put social entrepreneurs in the spotlight. Its 2020 edition targeted a new audience: the 23% of the Dutch population described as 'status-conscious' in a recent study. Although supportive of entrepreneurship and innovation, status-conscious consumers are less familiar with social enterprises.
To reach this new audience, Amsterdam Impact and The Impact Days campaign partners teamed up with Rainbow Collection, an impact agency that develops sustainability strategies and grows meaningful brands. 
"The participating municipalities see this campaign as an instrument to realise their vision of building an impact economy. And we share that vision – of working together and creating new types of business models," says Dieuwertje Damen, Rainbow Collection's founder and director.

The Impact Days go digital 
Covid-19 prevention measures forced The Impact Days campaign to turn into an almost fully digital event – but this did have its silver lining. "It gave us the opportunity to build an online platform at amazing speed," says Damen. The interactive, 'next-level city' created as part of the campaign featured more than 180 enterprises across the Netherlands.
The new campaign direction attracted interest from mainstream media too, including De Telegraaf, the largest Dutch daily morning paper. 
"Social enterprises struggle with going outside the bubble of the green consumers they already have onboard. During the 2020 edition, we made the first steps in the right direction," Damen says.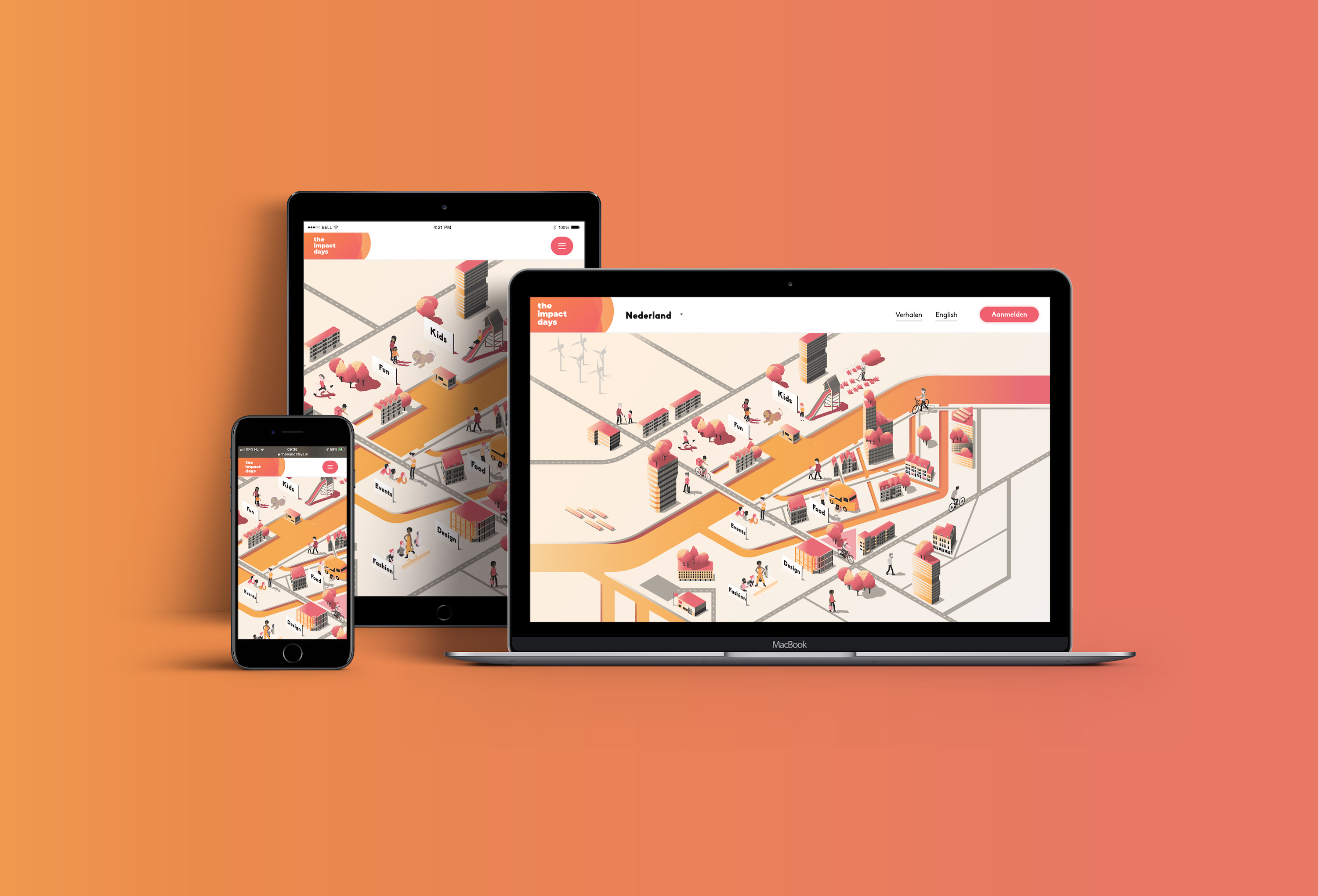 To keep this consumer enthusiasm alive, ensuring that the platform and related social media efforts stay active year-round seems like a logical next step.
"People can easily fall back into old habits. By telling meaningful stories on a regular basis, we can slowly change consumer behaviour. We need consciously-made products throughout the entire year," says  Precilla Schrier, programme lead at Rotterdam-based impact Voor Goed, one of the campaign's key partners. 
People can easily fall back into old habits. By telling meaningful stories on a regular basis, we can slowly change consumer behaviour
Future editions will also likely see even more co-creation with – and support for – the social enterprises joining future editions of The Impact Days. 
"Professionalisation is a work in progress. We aim to collaborate more closely with the participating social enterprises and look into their needs," says van Wees.
 And Schrier says it's not just about changing the consumer's perspective, but also about helping social enterprises to market themselves better and increase their sales. "The campaign can bring new customers to their doorsteps – but they have to be there to open the door." 
The Impact Days and next-level entrepreneurship
'Next-level' or impact entrepreneurs are the pioneers of creating positive change through business. From closing waste loops through circular products to building an inclusive and equitable job market, next-level entrepreneurs innovate and inspire. 
The Impact Days puts a spotlight on such entrepreneurs who help build a more sustainable and inclusive world. The aim? To get consumers, organisations, and the (local) government to make responsible and conscious purchases throughout the year.
During the 2020 edition of The Impact Days, the City of Amsterdam worked with six showcase entrepreneurs. These included Little Plant Pantry, a supermarket with zero-plastic packaging, Roetz (pictured above), a circular and inclusive bike maker, and Urban Nature Culture, a mainstream home deco brand embracing sustainability through a line of 100% recycled tableware. 
Additional image credits​: Buyers and social entrepreneurs connect during a Buy Social event (Jurre Rompa); campaign visuals from the 2020 edition of The Impact Days campaign, which featured the pioneers of creating positive change through business, such as Roetz Bikes; digital assets created as part of the 2020 Impact Days
Coming next: how Amsterdam Impact and its partners focus on capital, connections, transition, internationalisation and neighbourhoods to drive the shift to a new economy. Plus, we'll meet some of the impact entrepreneurs demonstrating how it's done. Check back soon for more and sign up to the Pioneers Post newsletter to stay updated.