How sports social enterprise KLABU backs the 'unbeatable spirit' of refugees
STREETS OF AMSTERDAM Sport can be transformative in places where facilities are few and far between: in a refugee settlement in Kenya, more than 11,000 members have joined the first club created by Amsterdam-based social enterprise KLABU. Now, with the backing of impact investors, the UN, and even Paris-Saint-Germain football club, founder Jan Van Hövell has his eyes on the next goal: 50 clubhouses within the decade.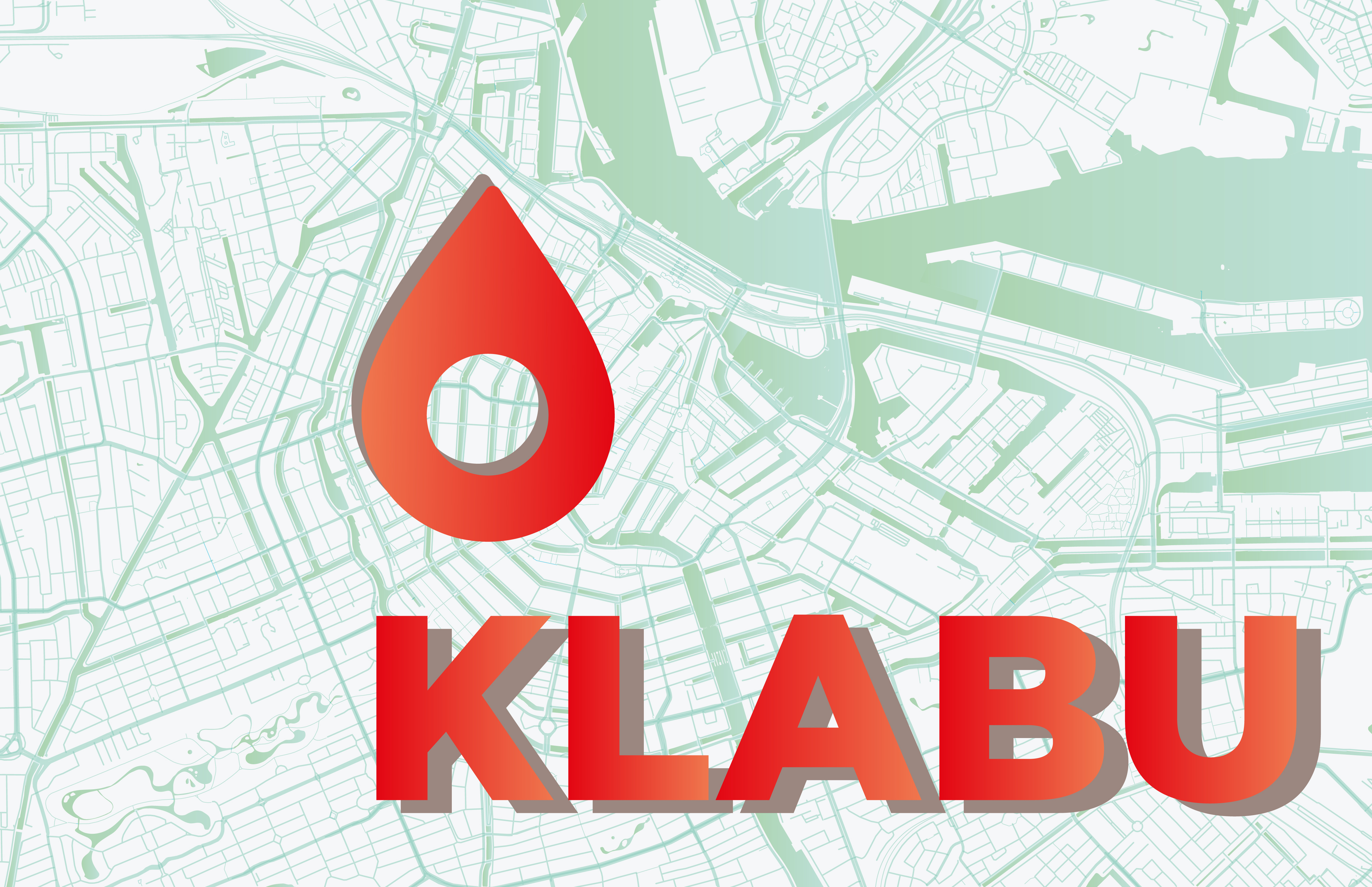 Living in the Kalobeyei settlement in northern Kenya can be tough and isolating. But for some of the 40,000 refugees who call Kalobeyei home, life is a little brighter thanks to regular football games and sports, a welcoming community centre, and the basics that many of us take for granted – access to wifi, TV, electricity, and a comfortable space to hang out.
The buildings, or 'clubhouses', that host these amenities are the idea of KLABU, an Amsterdam-based social enterprise and foundation that believes that sports can help bolster the spirits of the 6.6 million people worldwide who currently live in refugee camps and settlements. 
KLABU's tagline, 'unbeatable spirit', is directly inspired by the communities it serves. "People in camps have left everything behind, and they need that fire, that energy to build a brighter future. We see that spirit reignited after they've played a match," says KLABU founder Jan Van Hövell (pictured).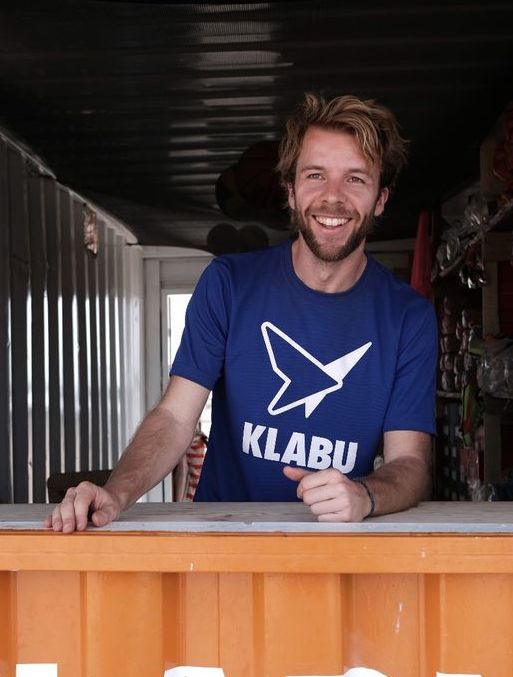 "I always had this idea since I was quite young: that sports can change the lives of people in difficult circumstances," explains Van Hövell, who first witnessed the transformational power of sports as an 18-year-old intern with the UN Refugee Agency (UNHCR) at the Buduburam refugee camp in Ghana.
More than 70% of Kalobeyei's inhabitants are 18 or younger. Before KLABU set up a clubhouse in 2019 in close cooperation with the UN and UNHCR, the settlement hadn't benefitted from any long-term sports initiatives, Van Hövell says. 
"The UN and the UNHCR gave us the best advice: work directly with refugees on the ground instead of [indirectly via] NGOs. So the approach to set up our first club was grassroots, down-to-earth. We worked with people who wanted to be engaged with sports but didn't have the tools yet." 
Sports can change the lives of people in difficult circumstances
As a social enterprise, KLABU (Swahili for 'club') makes money through its own sportswear range, sold worldwide. Fifty percent of profits go to KLABU's foundation (which also raises money via public donations): this funds the building of clubhouses in refugee camps and creation of sports 'libraries', which provide equipment ranging from t-shirts and shoes, to footballs, to chess sets. These items are lent out for a minimal fee, half of which goes to the local managers as payment for their time, and half to equipment repairs and maintenance.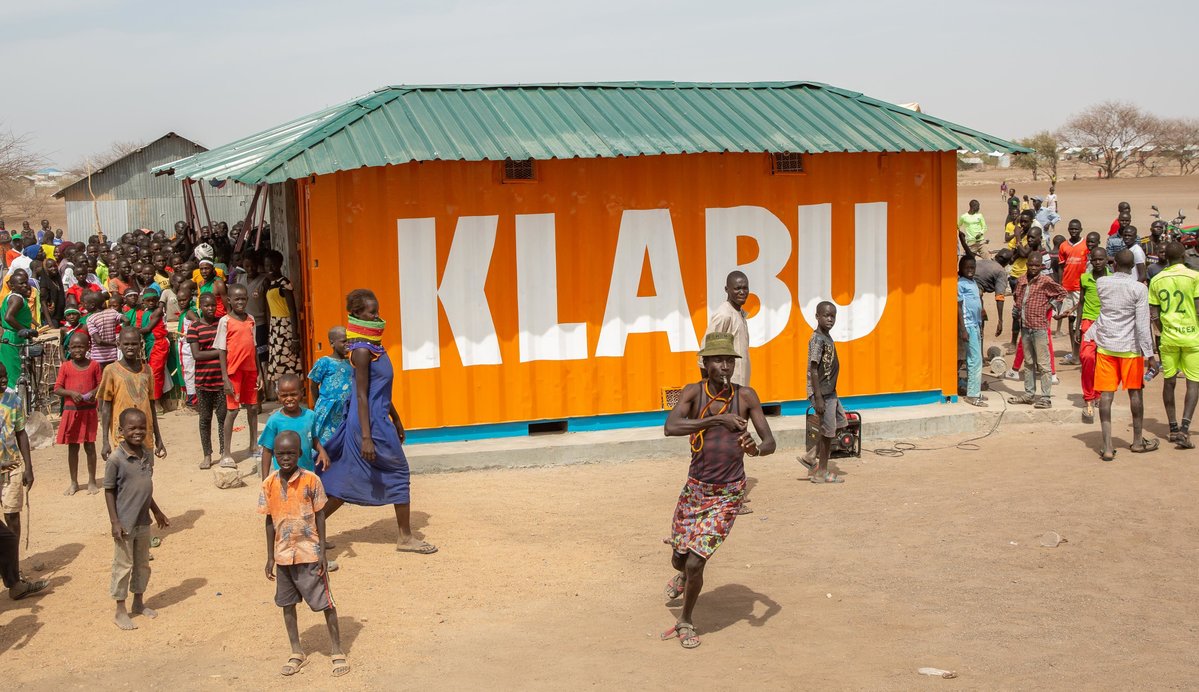 Above: the Kalobeyei Spirit club has more than 11,000 members – a quarter of the settlement's inhabitants
Using an iPad app, club members can register to attend local activities and borrow athletic gear. The app helps providers to improve the offer: the data showed, for instance, that only 20% of Kalobeyei club members were female. To encourage more women to join, the clubhouse introduced new sports and games – from volleyball to yoga and chess.
As of November 2021, the Kalobeyei Spirit club boasts 11,191 members, accounting for a quarter of the settlement's inhabitants. "Many people come to watch sports. It's become a community centre," Van Hövell adds. 
Setting up for success
Van Hövell's early career in Ghana was eye-opening, but he didn't follow his passion right away. Instead, he spent four years working as a lawyer first. "Working in a law firm helps you understand how a business works and how to build partnerships with the corporate world, which has more funding available than the impact world," Van Hövell explains.
It was these corporate connections that helped him launch KLABU. "I became a client of my old firm [De Brauw Blackstone Westbroek]. They helped me with legal work such as creating KLABU's articles of association."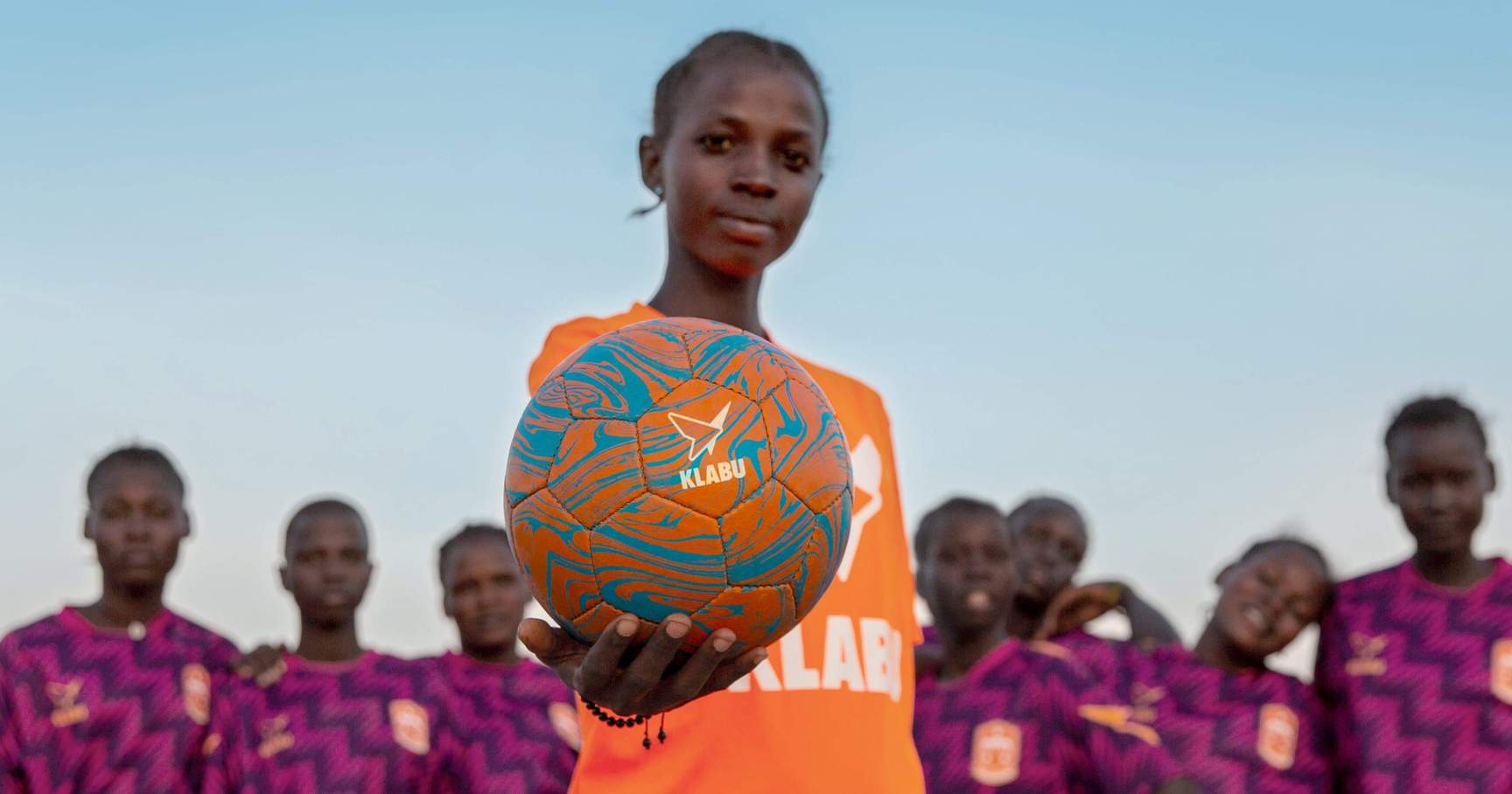 Above: KLABU members can borrow sports gear and equipment for a minimal fee 
KLABU was launched in 2019 as a foundation, but that legal form brings some limitations, so he later decided to create a social enterprise – operating as a private limited company – alongside. 
"So far, we made a profit of €13,000 and donated €6,500. For each item we sold, an average of five refugees got access to sports through our projects," says Van Hövell. 
Producing sportswear in refugee camps would close the circle and help residents to earn an income. That's the future
Thanks to a six-figure investment this year from a group of angel investors, KLABU is now gearing up to grow the sportswear brand. "The investors are entrepreneurs themselves and don't just contribute money but also expertise. We only choose to work with people who can help us boost our impact," he adds.
KLABU works with producers in Italy and Bulgaria but hopes to soon collaborate with talented newcomers in the Netherlands and refugee camps. "Producing sportswear in refugee camps would close the circle and help residents to earn an income. That's the future," says Van Hövell. 
Impact on the home turf
KLABU sells its sports gear via its website and in its Amsterdam store on Haarlemmerdijk, once voted the country's best shopping street. When Covid-19 hit, the social enterprise began using this home base not just for sales, but also for new, local projects.
The store now turns into a clubhouse every Tuesday evening, aimed at welcoming undocumented migrants among others. "At 5:30pm, we go out for an hour of sports and then have an hour for drinks and socialising," Van Hövell explains. 
The Haarlemmerdijk location is also new, having moved in 2021 from the red light district, where the store was much less frequented by locals. 
"Moving has opened up links with neighbours but has also brought us closer in touch with the municipality, which is helping us to connect with shelters for undocumented migrants," he says. Other organisations that support newcomers also recommend attending KLABU's events for the "workout and positivity", in Van Hövell's words. 
Our ambition is to create 50 clubs in the next ten years
Playing the long game
So far, KLABU is only present in Kalobeyei, but the founder has big plans.
"Our ambition is to create 50 clubs in the next ten years," he says. Next, he plans to bring sports to Cox's Bazar in Bangladesh, the world's largest refugee camp and home to almost one million Rohingya refugees who have fled persecution in neighbouring Myanmar.
To create Cox's Bazar clubhouse – set to open in early 2022 – KLABU has teamed up with world-class football club Paris Saint-Germain and Bangladeshi nonprofit Friendship for a multi-year project supported by UNHCR.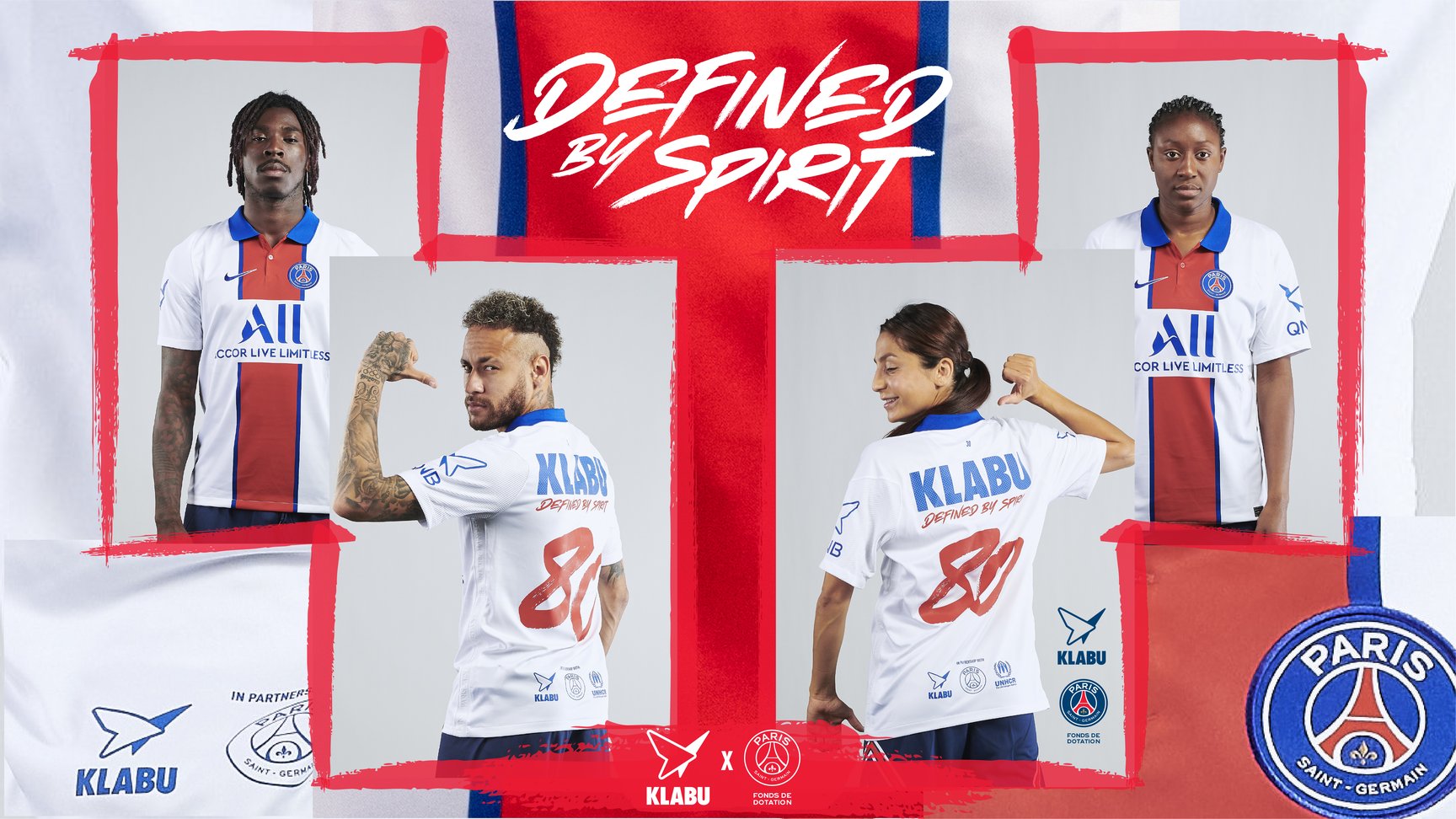 Above: KLABU's high-profile partners include football club Paris Saint-Germain
And in collaboration with the Dutch nonprofit Movement on the Ground, KLABU is also working on establishing a clubhouse in the Mavrovouni camp on the Greek island of Lesbos, where nearly 3,000 refugees live.  
"One of our main goals is to create sustainable partnerships that last for several years. Partnerships that are grassroots, lean and mean. Our ideal partner adds value to our work in refugee camps but also helps us build the sportswear brand," says Van Hövell.
KLABU envisions creating products with its future partners, such as more consumer collections. It is also working with a large sports brand, which presently donates equipment for the sports libraries, to explore the design of a tailor-made sports shoe for the conditions in refugee camps. 
Products with a story
Storytelling plays a crucial role in KLABU's growth ambitions. For instance, at the Kalobeyei club, KLABU is working with Jean-Marie from Burundi, who dreams of being a journalist.
"We have given him an iPhone and training to capture stories on the ground. It's the locals' club, and we want to be the supporters. They are in the lead, and we will share their stories with the world," Van Hövell explains.
To amplify the voices of refugees while growing the social enterprise brand's revenue, KLABU will soon start selling its sportswear through large ecommerce platforms. Communicating the impact to potential customers will be a key part of growth, the founder says.
"The products have to tell a story too, just not the foundation. And profits from the brand will help the foundation grow. So the more sportswear we sell, the more clubs we can launch – it goes hand in hand," he adds.
All images courtesy KLABU; header image credit: Coco Olakunle
Explore our Cities of Impact series to find out how city government initiative Amsterdam Impact and its partners are nurturing social entrepreneurship and working to transform the economy for good.