Reassess your values – with the help of Gordon Ramsay
Covid-19 restrictions could be the chance you never knew you needed to overhaul all those niggling issues in the 'restaurant' of your life. In part two from occupational therapist (and reality TV fan) Katherine Burnard: the 'Kitchen Nightmare' episode that asks tough questions about your values.
Kitchen Nightmare, Episode 2: The Atmosphere. This week, Gordon Ramsay asks restaurant owners to think hard about the atmosphere they are intending to create in their restaurant. What does the restaurant say about their values, and can they use lockdown to reconnect with their 'Why'?
As a quick recap, lockdown is your very own Kitchen Nightmare moment. In this version of the reality TV series, the restaurant represents your life. Gordon Ramsay is here to help you take an honest look at where your restaurant life had been struggling pre-Covid, getting clarity of the vision you have for it reaching its full potential, then getting you ready for the big reopening. Last week was all about the menu. This week, it's the atmosphere.
Values are the basis on which we build our lives. When we are consistently acting in ways that align with what is important to us, this creates the ideal ambiance of our life. Without being really aware of those values, or actively taking steps to keep them in focus, it can be easy for the atmosphere to start feeling a little 'off'. All of a sudden you realise you've started using disposable plastic cutlery at your 'eco-friendly' restaurant. Or your quirky backstreet cafe has started to fill up with flatpack furniture instead of those treasured vintage finds. Or maybe your uber trendy late-night bar got stuck on a playlist from 2016. Jarring, right?
Now is the time to take stock of what's really important, to consider how aligned you feel with your values
Generally speaking, our personal values remain pretty constant over time. But different values can come in and out of focus, depending on differing demands in your life. As social entrepreneurs and people in the impact sector, we care a lot about a lot of things. Often that can mean we put the majority of our energy into other people, into the fight for the greater good. This can mean you pay less attention to other things in life that are important, and that can only go on for so long until things start to feel a bit out of whack.
Gordon Ramsay's second piece of advice on Kitchen Nightmare (Lockdown Edition): lockdown has created an opportunity for recalibration. Now is the time to take stock of what's really important, to consider how aligned you feel with your values.
Choose 6-8 words or statements that reflect the ways in which you want to live your life (a bit like a company's values, but make them about you).
Pre-Covid, could you notice any of these values slipping out of focus?
In what ways has lockdown enabled you to live more aligned to your values?
In life beyond lockdown, what do you need to do to ensure you're keeping each of your values in focus?
If you're feeling stuck or you find visual tools helpful when reflecting, creating a Wellbeing Wheel can be a good place to start. This is a tool used widely in mental health services as a way to support people to map their values and reflect on how in focus they are at any given time (1 = very in focus, using a lot of energy; through to 5 = not a current priority, not finding the energy to put towards it). I've included my personal example here, but your values will be unique to you.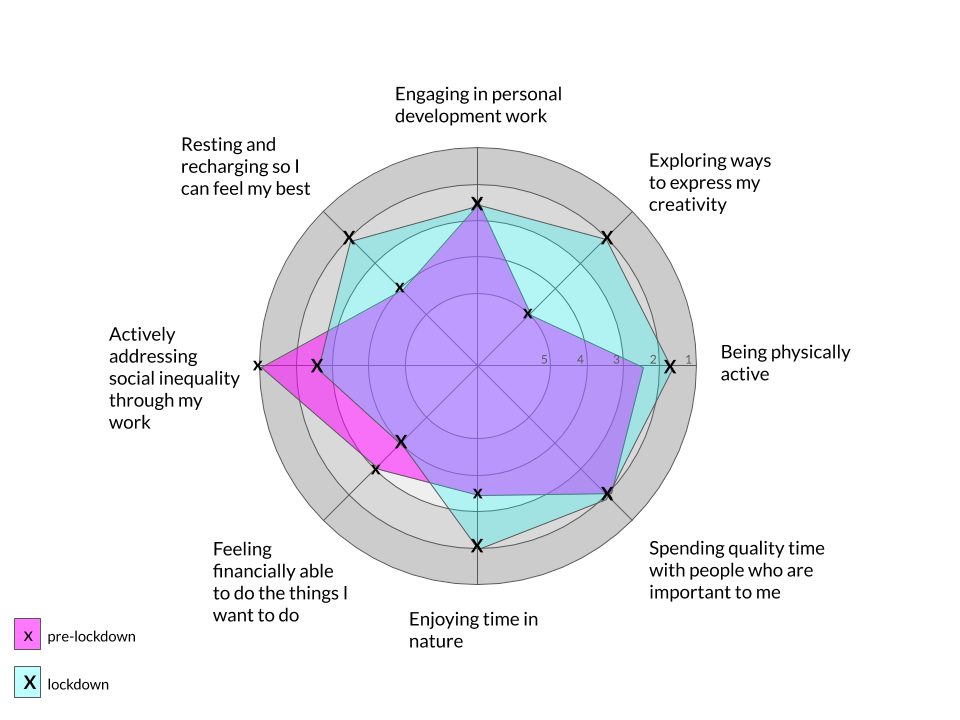 So, what will your reopened restaurant atmosphere say about you? Is it all sustainable, plastic-free products? Is it minimalist and pared back, clutter-free and simplified? Is it a colourful mismatch of organised chaos? Why not use the remaining time in lockdown to feel out that internal feng shui?
Here's a blank template to get you started: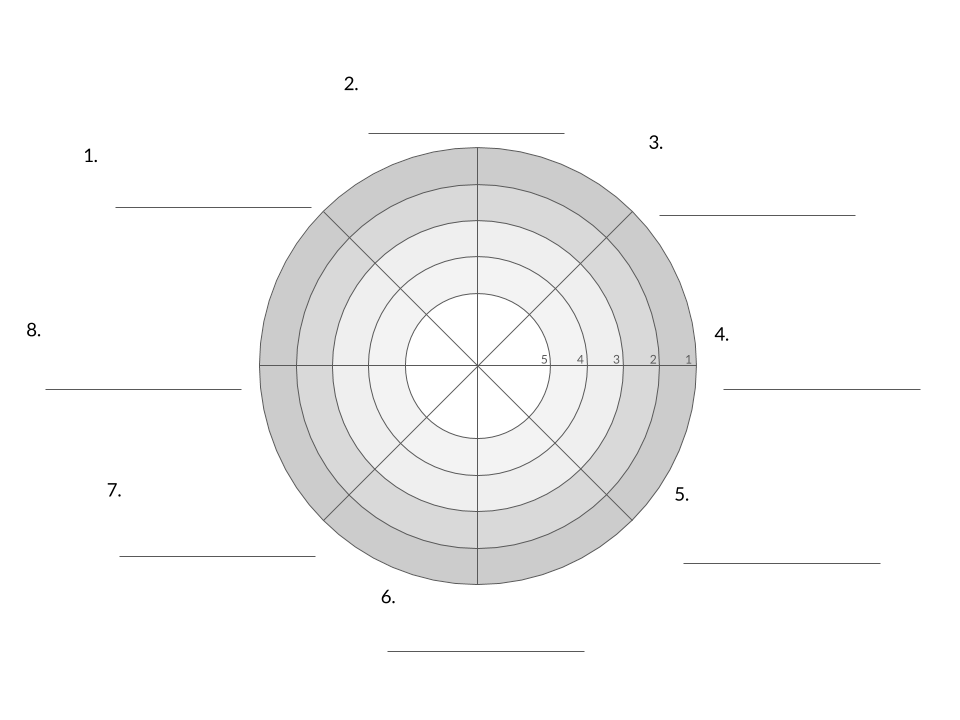 Katharine Burnard is the founder of Square Circle.
At Pioneers Post we're working hard to provide the most up-to-date news and resources to help social businesses and impact investors share their experiences and get through the Covid-19 crisis. But we need your support to continue. As a social enterprise ourselves, Pioneers Post relies on paid subscriptions and partnerships to sustain our purpose-led journalism – so if you think it's worth having an independent, mission-driven, specialist media platform for the impact movement, please click here to subscribe.