How to build an impact city: Facilitate capital
Amsterdam Impact wants to reshape the Dutch city by making impact entrepreneurship the default way of doing business. Previously in this series, we explored how it is working to unlock market access and focusing on the transition to a whole new economy. This time: how the government initiative is betting on collaboration over competition to spark more deals that make a difference.
Finding the right finance can be a real headache for impact entrepreneurs. Even if an early-stage business does secure investment, that same investor may not be best-placed or able to continue backing the business as it grows. 
This challenge is one that Amsterdam Impact, a pioneering initiative created by the City of Amsterdam in 2015, hopes to solve. The solution, they hope, lies in more collaboration – even among apparent competitors.
Co-financing as a way forward 
Launched in 2019, Co-Financing our Future (CoFoF) has quickly become the peer-to-peer impact investing community in the Netherlands. It was initiated by ABN AMRO bank, the country's largest impact investor DOEN Participaties, investment fund PDENH, and nonprofit Circle Economy with input from key players in the Dutch impact investing landscape. Amsterdam Impact took it to the next level by swiftly coming on board as the first major sponsor, which attracted others to join.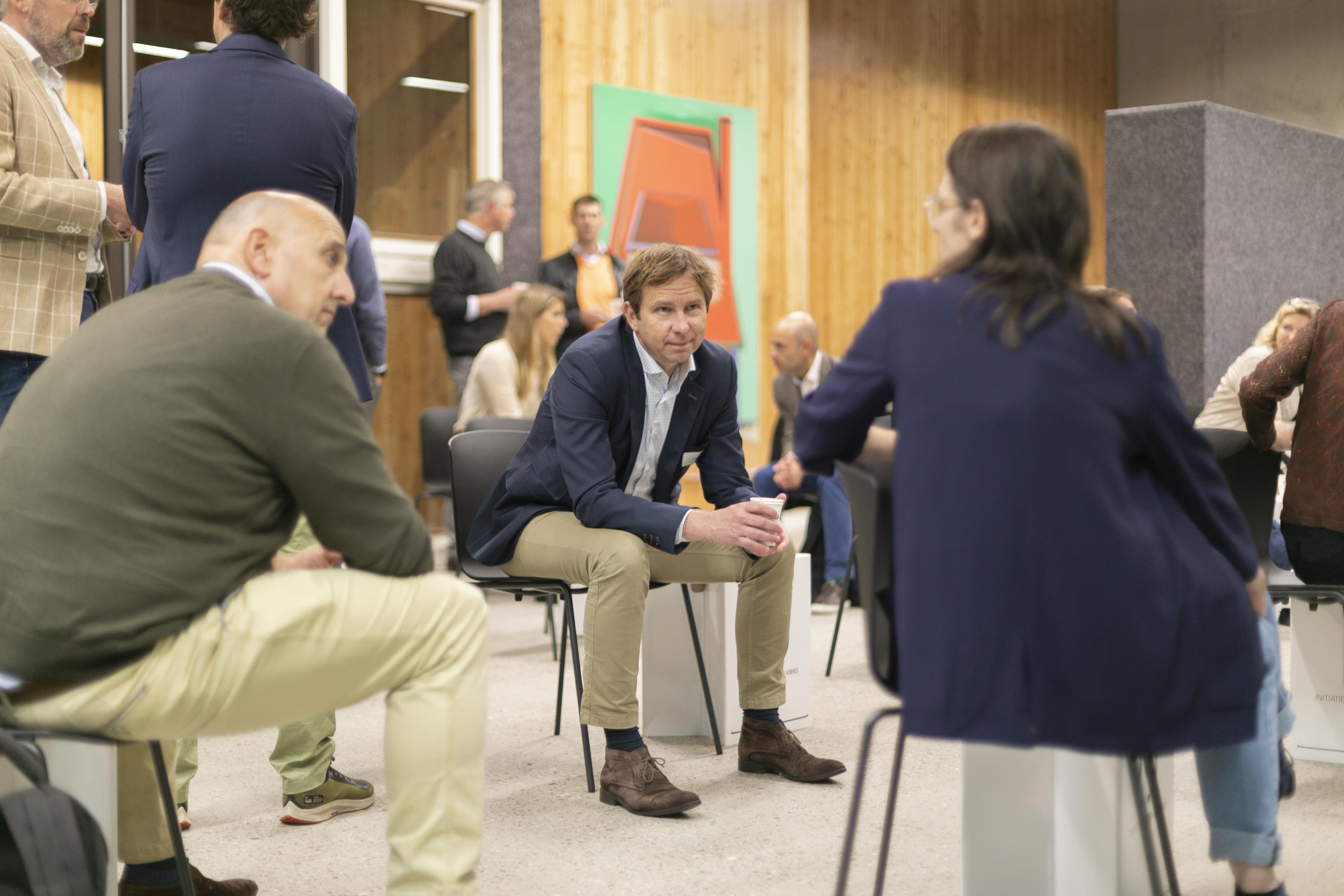 Above: Co-Financing our Future hosts online and offline events, where financiers can discuss working together in consortia or in other co-financing structures. The first event in 2019 saw 150 people registering within five minutes of being announced
CoFoF is now powered by a wide range of partners and sponsors including Invest-NL, a private company financed with public funds; Techleap.nl, which helps build a thriving tech ecosystem in the Netherlands; the three largest Dutch banks; and venture capital firms such as Rubio Impact Ventures, Shift Invest and SET Ventures. 
CoFoF's inaugural event in July 2019 saw 150 people registering in the first five minutes of receiving the invitation, which proved that impact investors had a real need to connect with their peers and explore co-financing opportunities. Since then, it has hosted regular online and offline gatherings.
Having investors work together at a company's early stage creates a strong backbone for the next rounds
"There are many events connecting investors to entrepreneurs. But putting investors together in one room is important for facilitating more impact investment deals," says Merijn ten Thije, CoFoF's initiator and investment manager at DOEN Participaties. 
The advantage for impact entrepreneurs is not just the number of immediate deals agreed. 
"Having investors work together at a company's early stage, for instance, creates a strong backbone for the next rounds," says ten Thije. A wider pool of expertise also allows entrepreneurs "to focus on the business instead of fundraising". 
An unusual network
The energy transition and circular economy are some of the most popular areas for impact investing, but CoFoF aims to also cover societal challenges, such as inclusion. "We want to touch upon all impact areas," explains ten Thije. 
This is one of the strengths of CoFoF, believes Ellen Oetelmans, Amsterdam Impact's programme manager. "It's very rare that you see these two elements of the new economy – sustainability and inclusion – combined in one network," she says.
It's very rare that you see these two elements of the new economy – sustainability and inclusion – combined in one network
Inclusion-focused investments include ABN AMRO's funding of Envision, whose smart glasses use speech to make everyday life more accessible for people with any visual impairment.
"Envisi
on opens up the world for large groups of people," says Eric Buckens (pictured), director of the ABN AMRO Social Impact Fund. "It initially seems more of a typical tech company, but the founders started with a social goal in mind: to help the blind. And they had the tech skills to do so."
That investment only came about because 4impact, an early shareholder of Envision, presented the company at a CoFoF gathering, which triggered ABN AMRO's interest. "Through 4impact we got in touch with Envision. This would not have happened without the CoFoF network," adds Buckens.
In addition to its broad focus on both environmentally and socially focused enterprises, CoFoF also wants to widen the net on the investor side, with the network's founders foreseeing a key role for the next wave of investment professionals. 
"We want to organise events for early-career analysts and associates. The younger generation is super important. A lot of deal-sharing is actually done on that level," says ten Thije.
Unpack Impact: lessons for business leaders 
In addition to the Co-Financing our Future community and the Integrated Capital Network (see below), Amsterdam Impact is working to make business leaders more aware of the dos and don'ts of fundraising.
Co-created with Impact Hub Amsterdam, the Unpack Impact event series 'unpacks' the lessons learned by impact entrepreneurs and their investors. Past events have featured enterprises such as Yoni, which makes 100% organic cotton tampons, pads and pantyliners, and Paper on the Rocks, which creates tree-free notebooks from construction and agricultural waste.
Each Unpack Impact edition also includes a keynote speech by a new economy thought leader. Among previous speakers are Hedda Pahlson-Moller (founder and CEO of TIIME), Yasmina Zaidman, (chief partnerships officer at Acumen), Dr Charly Kleissner (co-founder of Toniic), and Dr Christian Felber (initiator of Economy for the Common Good). 
Capital and expertise 
The Co-Financing our Future community complements the Integrated Capital Network (ICN), launched in 2019 and co-initiated by Amsterdam Impact, expert and investor group Generous Minds and Impact Hub Amsterdam, alongside a close-knit group of founding members.
While CoFoF is a peer-to-peer network for impact investors, the ICN gives impact entrepreneurs at different stages of growth a chance to pitch their business to various  finance providers – from private investors to banks, foundations and venture capital firms.   
"We are very proud that we built this network with all stakeholders and managed to bring it to the market. It showcases our role: to initiate a project and have it stand on its own two feet," says Oetelmans.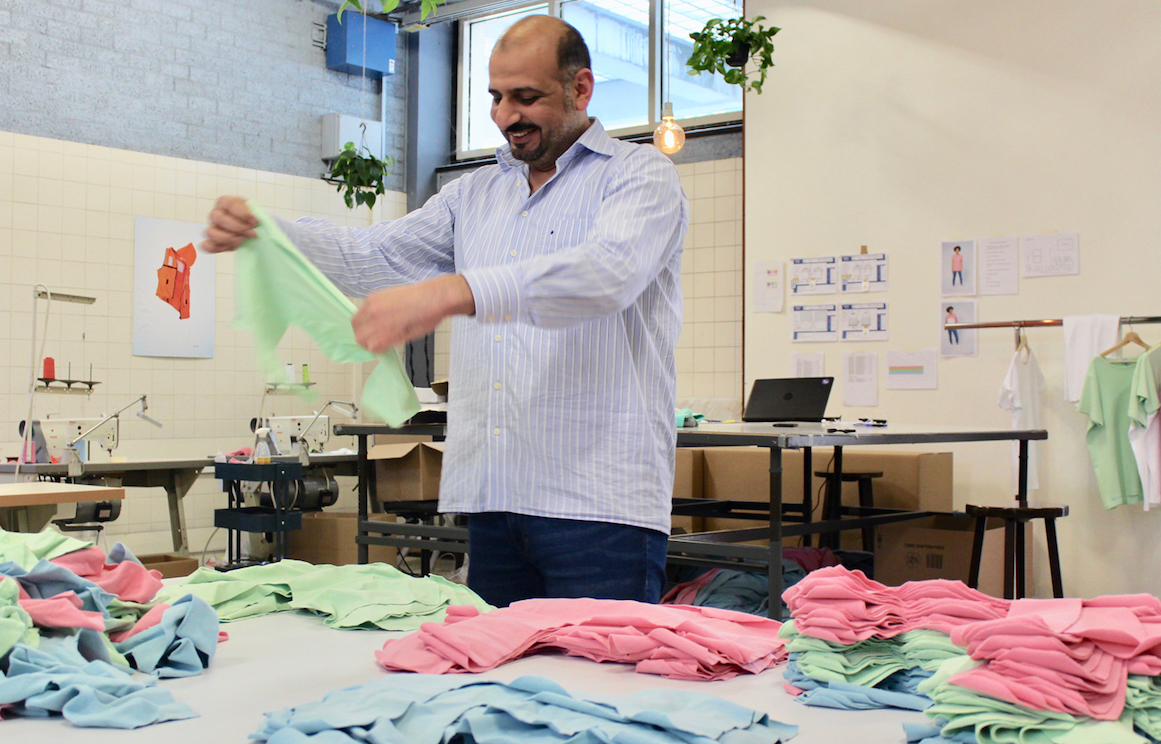 Above: Impact enterprise Makers Unite pitched to the Integrated Capital Network last year, ultimately securing 'substantial' investment from DOEN Participaties and an angel investor 
ABN AMRO's Buckens echoes this, saying that the role of local government should not primarily be about providing "huge volumes" of investment, but rather being the facilitator of an active impact investing ecosystem. "The City of Amsterdam understood this need in the market," he says.
The ICN aims to facilitate a better allocation of capital across the business life cycle. Members meet for 'labs' to match up pitching enterprises and investors, by taking into account each company's development stage and the investors' expertise and focus areas.  
That doesn't always mean a match is made immediately.
Makers Unite – where newcomers to the Netherlands produce sustainable textile products for corporate clients – pitched in the ICN's pilot lab back in 2018.
The company used the advice received to refine its proposition further and came back to pitch in 2020. That second pitch led to substantial investment from DOEN Participaties and an angel investor, allowing Makers Unite to increase its production capacity. 

A sharper business proposition
Another company that secured eventual funding through the Integrated Capital Network was social enterprise Speaksee. 
"Conversations are hard to follow for my deaf parents," says Speaksee founder and CEO Jari Hazelebach. To help deaf and hard-of-hearing people to better follow in-person meetings, he developed a mic system that transcribes conversations on a variety of devices, in real time, and with a different colour for each speaker. 
Speaksee has also adapted its product for the work context created by the Covid-19 pandemic: its new AutoCaption tool also creates subtitles for online meetings.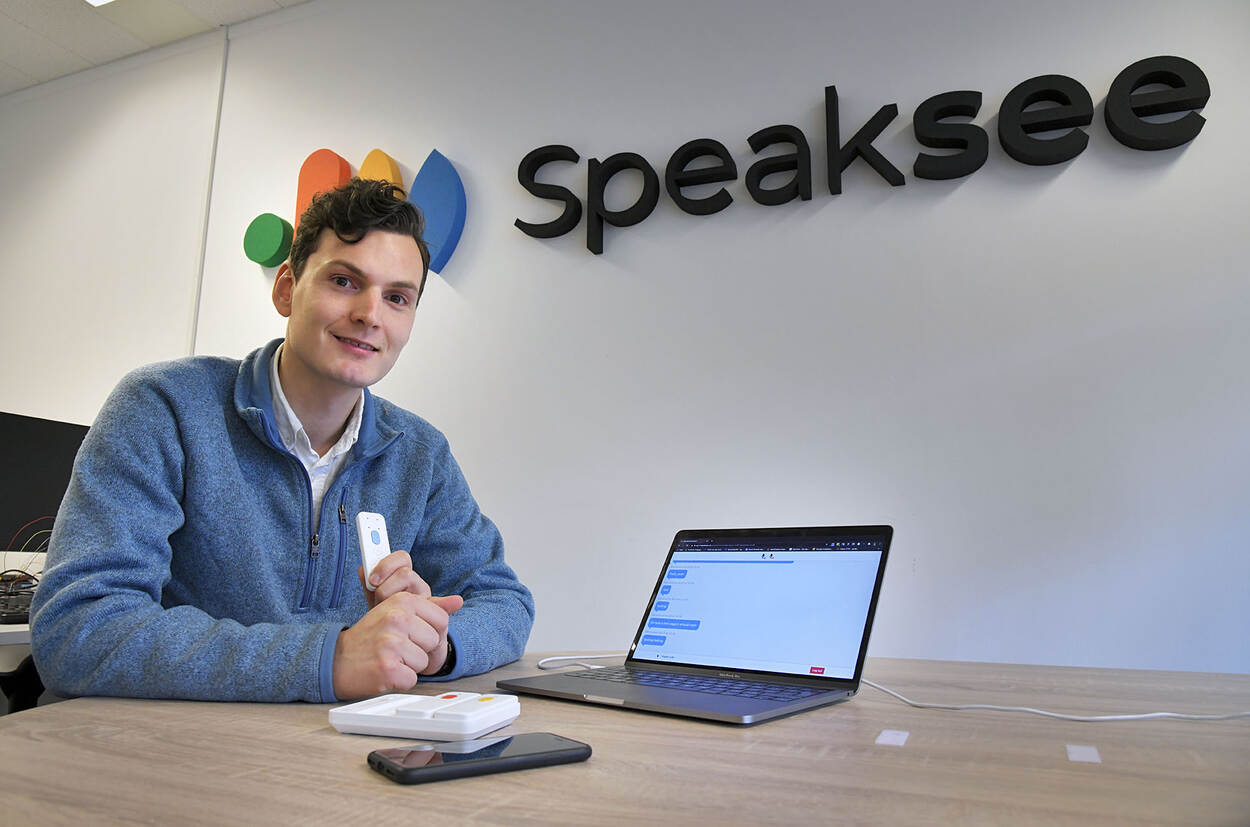 Above: Jari Hazelebach, founder of Speaksee, which creates text captions for in-person and online meetings. The social enterprise refined its pitch thanks to feedback from the ICN and went on to raise seed investment of €200,000 (credit: Riesjard Schropp)
"My father was feeling isolated and AutoCaption allowed him to participate again," says Hazelebach. His product is now used by large clients such as telecoms provider KPN, Rabobank and the Dutch National Police. 
Although Speaksee wasn't financed straight away when it pitched to the ICN in 2019, the lab helped the founder to sharpen his business proposition.  
"I was quite impressed with the audience," Hazelebach says. "As a founder, you usually go to different investors and pitch for individual deals. The perspective here was more collaborative; each investor has their unique qualities and values."
And ultimately, Speaksee went on to raise €200,000 in seed investment from an angel investor – indirectly thanks to the ICN pitch, via an introduction from Generous Minds. 
Putting impact first
Speaksee's story helps illustrate one of the Integrated Capital Network's key selling points: examining an impact enterprise at each stage of its growth and figuring out the right mix of advice, introductions, and, ultimately, funding.
"ICN investors discuss ways to cover the impact enterprise market from cradle to maturity," says ABN AMRO Bank's Eric Buckens.
What remains the network's main driver is the "synergy between a successful business model and a successful impact model", as Buckens puts it, while stressing the importance of keeping impact at the core. "I'm not looking for financially successful companies. I look for changemakers who should also be financially viable."
We are in a phase in the impact-first investment market when it's important to build things, to think long-term, to find like-minded partners
Having what he terms "an outbound view of the market" – in other words, a proactive approach to tackling relevant societal challenges – is also essential, particularly for the Co-Financing our Future community. 
"If we think that sustainable food is important, for example, we, as investors, can see where the weakness lies in the food value chain, find investors who want to work with us, and jointly focus on specific financing opportunities," says Buckens.  
Contributing to a new economy through impact investment is a journey that requires patience and commitment. 
"We are in a phase in the impact-first investment market when it's important to build things, to think long-term, to find like-minded partners who want to make change on issues from climate to hunger," he adds. "These issues are of such a scale that philanthropy and social responsibility are not enough. We have to facilitate business models that combine societal and financial goals and support the transition of the economy." 
Photo of ABN AMRO's Eric Buckens by Jurre Rompa
Coming next: how Amsterdam Impact supports entrepreneurial initiatives that contribute to vibrant, liveable neighbourhoods. Plus, we'll meet some of the impact entrepreneurs demonstrating how it's done. Check back soon for more or sign up to the Pioneers Post newsletter to stay updated.